Veeam Backup & Replication Enterprise Plus
VMware vSphere Standard provides an entry solution for basic consolidation of applications to slash hardware costs while accelerating application deployment.
Features:
Support for VMware vSphere and Microsoft Hyper-V hypervisors
Backup Copy jobs
Veeam Cloud
Connect Backup
File versions archiving
Image-based VM replication
Assisted failover and failback
Replication from a backup
Planned failover
Veeam Cloud Connect Replication
Entire VM restore
VM disks and files restore
Direct Restore to AWS and Azure
Instant VM Recovery
Instant disk recovery
File-Level Recovery
Veeam Explorer™ for Storage Snapshots
Secure Restore
Built-in management for Veeam Agents
PowerShell module
Applicationaware, imagebased backups
End-to-end Encryption
ROBO Guest Interaction Proxy
Proxy affinity
SOBR Capacity Tier
Per-VM backup files
1-Click failover orchestration
Instant database recovery
Veeam Explorer for Microsoft Active Directory
Veeam Explorer for Microsoft Exchange
Veeam Explorer for Microsoft SQL Server
Veeam Explorer for Microsoft SharePoint
Guest file system indexing
Veeam Explorer for Oracle
SureBackup
SureReplica
Staged Restore
On-Demand Sandbox
Data Integration API
Veeam Backup Enterprise Manager – Centralized Management Web UI
Storage latency control
Built-in WAN Acceleration
Backup from Storage Snapshots
VMware Cloud Director Backup
SOBR ArchiveTier
Native tape support
Veeam CDP
VMware Cloud Director Replication
On-Demand Sandbox from Storage Snapshots
Recovery delegation
Native VMware Cloud Director plug-in
Role-Based Access Control
RESTful API
What's New in V11?
Eliminate Data Loss
Eliminate Ransomware
Veeam® Backup & Replication™ v11 brings balance to your data protection objectives with a 4-in-1 solution, combining storage snapshots, backup, replication and Continuous Data Protection under a single platform. Protect, manage and unleash your data with V11, achieving greater security and resiliency in your Modern Data Protection strategy with over 200+ new features and updates.
• Continuous Data Protection
Eliminate downtime and minimize data loss for your Tier 1 VMware workloads.
• Reliable Ransomware Protection
Keep data safe with native, immutable, malware safe storage for your backups.
• Amazon S3 Glacier and Azure Archive
Reduce the cost of long term data archival and retention by up to 20x.
• Expanded Instant Recovery
Instantly recover even more workloads, now including Microsoft SQL, Oracle and NAS.
• Veeam-Powered BaaS & DRaaS
Get the most out of V11 by teaming up with one of our integrated service provider partners.
Single Platform for Modern Data Protection
Modernize your data protection and eliminate downtime with Veeam® Backup & Replication™, the simple, flexible & reliable solution for protecting your Cloud, SaaS, Virtual and Physical workloads. Veeam Backup & Replication is the foundation of the Veeam Platform, providing backup, recovery and replication for your critical workloads including VMware, AWS, Microsoft Azure, Windows, Linux, NAS, enterprise apps and much more. Achieve today's RTOs and RPOs with faster backup, instant recovery and policy-driven backup data life cycle and retention. Ensure bulletproof Ransomware protection. Reduce cost and complexity, while meeting your SLOs with confidence.
Simple: Data protection that's simple to deploy and easy to use
Flexible: Software-defined and Hardware-agnostic: Cloud, Virtual & Physical
Reliable: Backup and recover any workload with confidence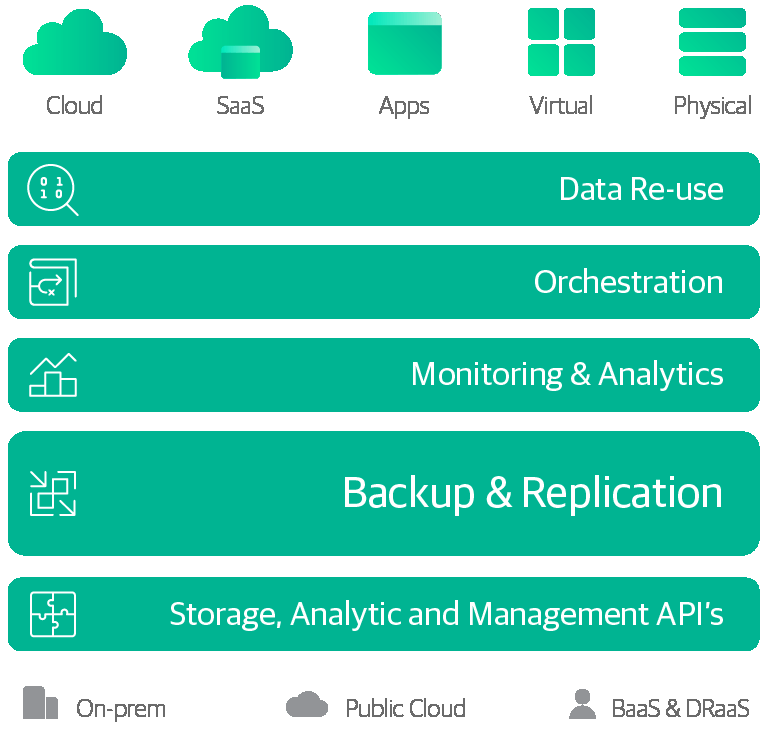 Protect everything anywhere. Scale to win.
Unleash effective protection for all your data, regardless of state or location. Reduce recovery and compliance risk to meet your objectives head-on. Scale confidently to the level that best meets your business needs. It's time to be flexible as everything needs to be protected — cloud, virtual, physical — it's all part of your data center now. Rely on the simplicity that only Veeam® can deliver with comprehensive backups of everything that runs your business.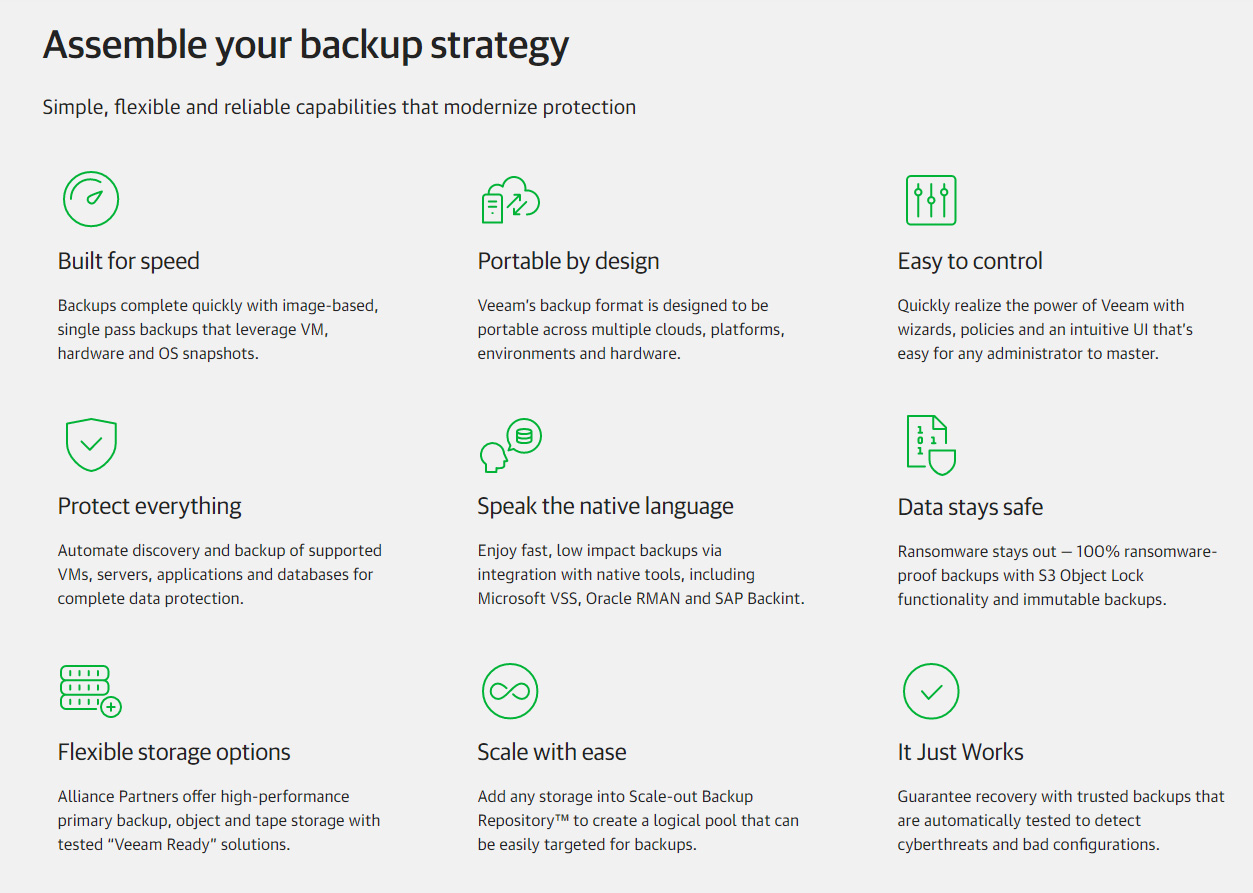 Meet your recovery objectives with confidence
Stop downtime with lightning-fast, proven restores at your fingertips for ANY recovery scenario. Born in virtualization and optimized for the cloud, Veeam® Backup & Replication™ provides data recovery options for businesses of any size. Restore multiple types of data no matter the application or environment — virtual and physical, on premises or in the cloud. Gain the flexibility that you need to meet your recovery objectives with confidence.